28
Oct
2008
Love Actually
Category: Bridal, Compact mirror, Events, Gifts, Letter opener, Love, Ornaments, Party, Personalized, Stationary, Valentine's Day, Wedding
|
2 Comments
|
I can't remember which movie once said "it is love that made life bearable".  I can't remember the name of the movie but I can't agree with it more. And I really wish everyone, everywhere, will find their true love eventually. So, today, let's take a look at a group of love-themed favors.
"Love Letters" Letter Opener in Personality Box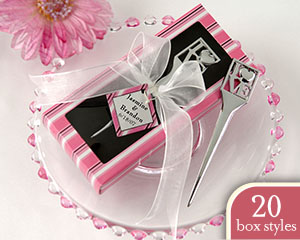 L is for the way you look at me
O is for the only one I see
V is very, very extraordinary
E is even more than anyone that you can adore
L-O-V-E. These for magical letters are combined into this unique LOVE letter opener. Made of solid silver chrome, these letter openers are romantic, practical, and elegant and make wonderful guest favors that your guests will appreciate for years to come.
LOVE Heart Compact Mirror in Black Velvet Pouch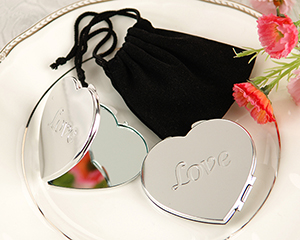 Classic and sleek, these compact heart mirrors are a great way to "reflect" your appreciation to your guests. Each chrome silver heart compact has LOVE across the front and is packaged in an elegant black velvet pouch.
"Love Notes" Sticky Notes in Nostalgic Dispenser Gift Box with Dainty Heart Charm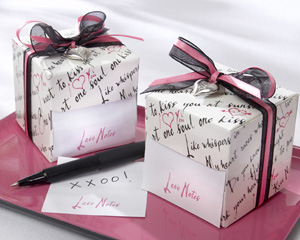 It's true that action speaks louder than words. So, why don't combine action with words and actually write your love one a love note? A step above the typical sticky-note pad, this unique note dispenser is a perfectly fitted box that offers one note at a time, each one delicately etched with "Love Notes" in pretty pink-ideal for exchanging words of passion with someone you adore. The perfect favor for Valentine's Day parties, wedding showers, anniversary parties and more, your guests will love you for it, and they'll remember your day fondly whenever they "make note" of their emotions.