11
Jul
2016
New Customized Promotional Products for Summer Party
|
Looking for some fun summer party promotional products to giveaway at trade shows or gift to family and friends? At HotRef, we have an array of exciting and fun summer party promotional products perfect for the beach, picnic, sporting event, or any outdoor occasion! From summer necessities like sunscreen and lip balm to beach fun and accessories like beach balls and event chairs — we've got you covered. Add a personal message or imprint your company's name or logo onto our summer party products to market your brand. These promotional products are also great giveaways to give to family, friends, at corporate events and at trade shows.
Beach Ball
A fun way to promote your business and be seen is with a custom printed beach ball! At HotRef, we have a 2 new promotional beach balls that can be imprinted with your company logo on it. Bring these beach balls to your next outdoor event, the beach, or any sporting event!
Each item listed is pictured below in order:
Beach Chair
Our new promotional beach chairs are ready to bring out for some fun in the sun this summer! We have a wide selection of cool new beach chairs that are lightweight, easy to pack-and-go, and comfortable: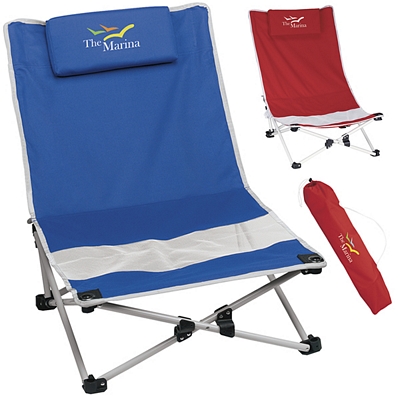 Sunglasses
Advertise your bright idea and company with some sunglasses! Custom logo sunglasses are always a favorite outdoor product. At HotRef, we offer a variety of sunglasses in various shapes, sizes and colors like our Good Value® Cool Vibes Clear Lenses Glasses (full colors)! These classic style sunglasses has UV400 protective clear lenses to protect wearers from the harsh rays of the sun. Each pair can be be imprinted with a logo on the lenses or on the side.
Keep your sunglasses clean with our lens cleaner (1-oz.)! This lens cleaner is travel-sized, so it's perfect to throw in your bag or take with you where ever you go.
Keep your sunglasses scratch-free and safe in our sunglasses case- Callaway Warbird 2.0! This carrier comes with a metal carabiner so it can be easily clipped onto you purse or golf bag.
Sunscreen
Sunscreen is a must if you're planning on going to the beach! Promote your business with our travel-friendly sunscreen and sun block! People will always appreciate promotional travel-sized sunscreen during the summer, as it is very handy when they go out in the sun. At HotRef, we carry numerous sunscreens in different shapes and sizes!
From top left to bottom right:
Lip Balm
Keep your lips moisturized and protected from the sun's rays during a beach party with lip balm! Custom promotional lip balms, like our Good Value SPF-15 Lip Balm (picture below), are a unique and effective way to advertise your business! They are used by almost everyone and they're travel friendly, and comes in a variety of flavors!
Blanket
Keep warm during bonfires or lay on top of the hot sand with our blankets! At HotRef, we offer a variety of blankets that not only can be used at the beach, but they're always perfect for sporting events or any outdoor party!
From top left to bottom right:
Cap
Keep comfy and cool while out in the sun with a nice fashionable cap! We've got 4 new caps available in different styles:
From top left to bottom right:
Cooler Chair
Store your food and drinks fresh and cool out on the warm beach with a cooler chair! Our KOOZIE® Deluxe Chair Kooler isn't just a regular cooler, it's also a chair that can hold up to 250 lbs! This cooler can hold up to 24 cans and  has a front pocket for additional storage.
All these items listed are available for customization! You can print your company name, logo, or a small message onto each product. Which, in turn, would make great business gifts! The smaller products would make perfect giveaways at the next corporate event or trade show.
Check back next week for more new promotional products from HotRef!
-Nina A.