22
Jan
2011
Monogrammed Jewelry Pouch
|
Personalized bridesmaid gifts are the rage these days and if you are looking for something stylish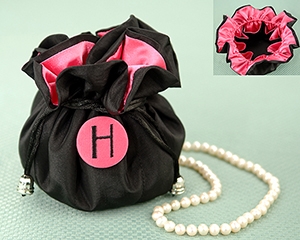 and chic to give your fabulous friends, then go with the Monogrammed Jewelry Pouch. The elegant pouch is extremely functional with 8 pockets to hold earrings, bracelets, charms, necklaces, and rings.
The option of getting a monogram of your choice embroidered on the pouch is actually a great way to personalize the bridal shower favors. The Cosmopolitan" jewelry pouch is lined with luxurious pink satin for that touch of extravagance for your jewels and the outside is made from easy-to-clean black polyester.
This compact pouch is sure to become your bridesmaids' best friend. Additionally personalizing any bridal shower favor can make it extraordinary. Your friends will feel special because you went the extra mile to make the items unique.