18
Jul
2016
New Good Value® & KOOZIE® Promotional Products
|
Summer is the perfect time to distribute and give away promotional products! Today, we've got new promotional products from KOOZIE and Good Value! These brands offer great summer promo products that are affordable, great for summer BBQ parties and picnics, and can be customized to include a company name or logo.
Good Value
Good Value's promotional products are always made with amazing quality, they're very durable and long-lasting, and always at affordable prices. We've got a few new Good Value promotional products that would be great to gift hard-working employees, friends or colleagues:
From top left to bottom right:
We also received these Good Value® Captain's Chair for sporting and any outdoor events! This chair features 2 cup holders and can hold up to 300 lbs. Plus, this event chair folds up easily and can comes its with own carrying case for easy travel and storage.
If you love hiking, boating, or exploring the outdoors then this Good Value® Adventure Dry Sack 10L is the perfect accessory to keep all your items stored safely and dry. This durable bag has a a shoulder strap with plastic buckles and a fold-down closure that can double as a handle.
BBQ & Picnic
Summer time calls for a fun BBQ and picnic! We've got a few new popular BBQ sets and picnic products that are perfect for any outdoor party during the summertime:
From top left to bottom right:
If you're looking for the complete BBQ set, then look no further because out new BBQ Gift Set has it all! This set features a 5-piece BBQ set, an apron and an oven mitt! As a bonus, this set comes with a a KOOZIE cooler to keep your beverages cool during hot summer days. The cooler can hold up to 24 cans and ice. 
Get your grill on everywhere you go with our KOOZIE® Portable BBQ with Kooler Bag! This set comes with a 12-can cooler compartment with a PEVA living to keep food fresh and drinks cold. Plus, the main compartment comes with a portable BBQ charcoal grill!
Plan for a nice relaxing picnic with family and friends this summer! Keep your food and drinks cool in our new KOOZIE® Picnic Basket! The main compartment is insulated and features a PEVA lining. When not in use, this picnic basket cooler can collapse for easy storage.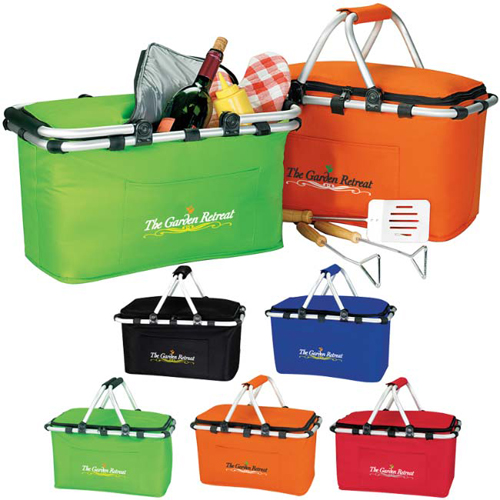 These items can all be customized to include a company name or logo, which makes these products perfect to promote your business with! Check back next week for new promotional products from some of out popular vendors!
-Nina A.