27
Oct
2008
Green is the New Fashion
Category: Bridal, Card Holder, Events, Flower, Gifts, Organic, Ornaments, Party, Photo holder, Plant, Seasonal, Wedding
|
Green stands for nature, harmony, organic, environmental friendly. What can be more "IN" than green when everyone is crying out loud "We Love Green"? So, are you prepared for a breath of fresh air?
Topiary Photo Holder/Place Card Holder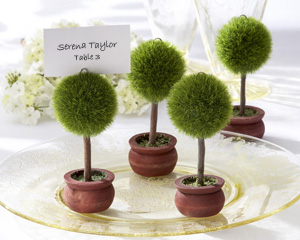 A breathtaking topiary-always the stunning showpiece of an exquisitely arranged garden-is the inspiration for this dramatic design. The Topiary Photo Holder/Place Card Holder will bring the same engaging charm to your wedding reception tables. Nobly rising from a well-crafted, dark-wood planter is the finely manicured, round, rich green foliage-an artisan's hallmark. Every topiary can hold a cherished photo of the happy couple or a place card.
Butterfly Garden Gift Baskets with Wildflower Seed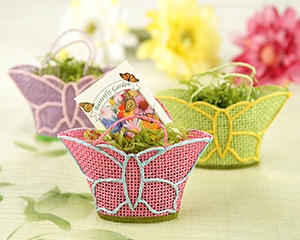 The butterfly gift basket was lovingly designed to remind your guests of a springtime garden in bloom, with a dainty butterfly frame and charming mesh lining. Each basket comes with a little paper "grass" filling and a wildflower seed packet. These adorable favors will make your event just a little bit sprightlier!
"New Beginnings" Plantable Petal Cones Kit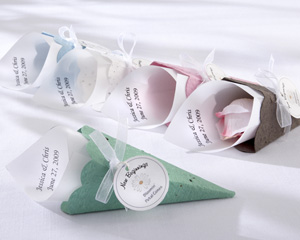 Let your wedding day be a breathtaking new beginning – for you, and for the bounty of natural beauty you present to each of your guests. Who else but Kate Aspen could design a favor that's elegant, eco-friendly, versatile and able to be personalized? She's done it magnificently with her "New Beginnings" Blooming Petal Cones. They begin their journey as convenient flower-petal holders, so your guests can shower you with Mother Nature's confetti as you leave for your honeymoon. Next, the petal cones travel near and far to the gardens of your guests, who can plant the favors so they can grow and blossom as a lasting reminder of the love that brought you to your special day. If you'd like to personalize your cones, Kate suggests vellum, and she provides a convenient, downloadable template that enables you to print whatever you wish on the vellum sheets. Simply insert the vellum into the cones for an even more dazzling presentation. To complete the impressive look, a lovely, matching organza ribbon enhances the front of the cone.