05
Nov
2008
Soap Favors: THE Ideal Gift
A wedding or a party usually has a thousand threads to attend to: occasion, location, guest list, seating arrangement… Then there is the inevitable question you have to ask yourself – what gift have you planned for your guests?
For wedding, business party, or social cocktail, soap favors are always on the top of your "ideal gift" list. They can be classy or cute to suite the occasion. Moreover, soap favors are functional, not something to be tossed over and forgotten in the corner by your guest- definitely a plus for choosing them as a gift. So, let's have a look at several stylish soap favors.
"For You" Scented Heart Soap in Silver Gift Box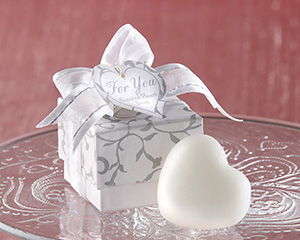 The refreshing fragrance of fresh rose bursts from this tiny beauty bar… a delicate heart-shaped soap that fits in the palm of your hands. Guests will have the promise of many luxurious showers and be blown away to a fragrant rose garden each time they use the soap. The soap is elegantly presented in a nest of white paper thread in the equally beautiful gift box that comes with a silver applique design, with matching "For You" tag attached.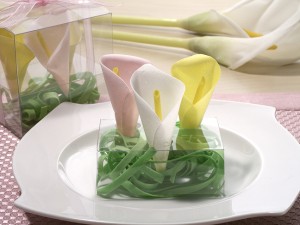 3 pieces soap calla lily's with shredded green soap confetti. Lily scented. Comes packaged 3 pieces of a calla lily soaps in a clear gift box wrapped with a ribbon. These unique lily scented soap favors are practical as well as useful.
Lavender Orchid Flower Soap Lavender Heart Soap Confetti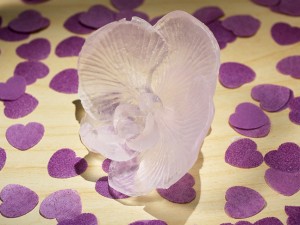 Lavender orchid flower glycerine soap comes with lavender heart shaped soap confetti in a clear PVC box. With a hot bath and these wonderful flower soap, while music is softly playing in the background, it has the magic to turn your ordinary day into something extraordinary. Romantic, huh?