16
Nov
2008
Musical Themed Favors
Category: Bridal, Business Gifts, Card Holder, Events, Gifts, Keychain, Music, Ornaments, Party, Photo holder, Wedding
|
To add taste and class to your event, all you need is these simple yet sophisticfated musical themed favors. With their help, your party will definitely flow! Make the special occasion not only like music to your guests's ears, but also a memorable  happening that will touch their heartstring. 
"Ain't Love Grand?" Piano Place Card Holders with Cards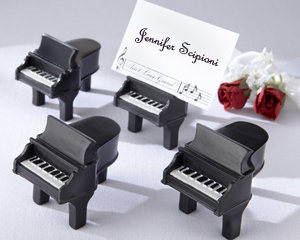 Love is the music of the soul, bring the music of love to your reception tables with "Ain't Love Grand?" Piano Place Card Holders. Your guests can take these adorable, diminutive replicas of a grand piano home and use them as photo holders.
Musical Note Place Card Holders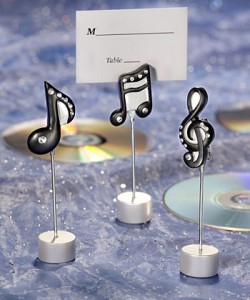 There'll be music in the air as your guests find their seating assignments whimsically displayed in these cute musical note place card holders. Perfect for any number of event themes, the resin and wire place card holders come in three assorted musical note designs and feature a round silver base with a wire extension with a black and silver rhinestone-embellished note at the top.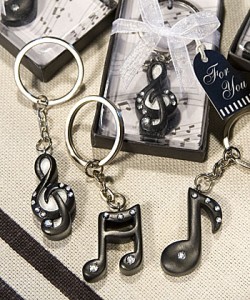 Your guests are sure to be singing a happy tune when they receive these whimsical musical note keychain favors at your event. In perfect key for any music filled occasion, the key chains come in three assorted notes. Each with a rhinestone-embellished black resin note charm connected at its top to a sturdy chrome chain and ring.