19
Oct
2008
Business Gifts: All about Function and Comfort (Part 5) – Electronics
|
Business Gifts: All about Function and Comfort (Part 5) – Electronics
In today's fast paced world and information age, what can be more IN as business gifts than the various electronic gadgets? So, let's take a look at some cool and helpful electronic gadgets.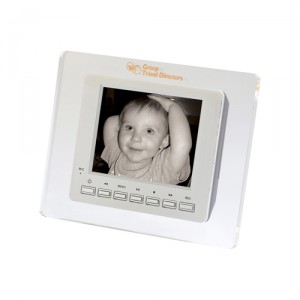 View a slideshow of your photos with 32 MB memory included or use this digital photo frame as an MP3/MP4 player and voice recorder. You can offer it as an appreciation gift for administrative assistants. Photos rotate automatically on the screen. USB port, integrated SD card reader, USB cord, and instructions included. This digital picture frame comes with 1-piece gift box. Also, it's compatible with Windows Vista.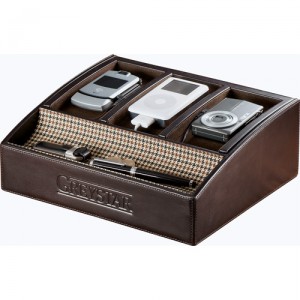 This quality product can help executives keep cords, chargers, and surge protectors hidden from view while charging their electronics with this attractive desktop organizer. The charging display features three equal-sized organizational trays for storing electronics, along with a curved tray for pens, note pads, and other quick-access items. The three-tray section lifts up so that electrical cords can be stored underneath. Genuine leather.
High Sierra Tahoe Computer Travel Set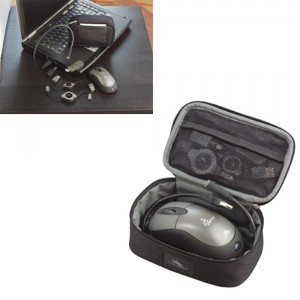 Five-piece set includes soft-sided case, wireless mouse, USB light, phone cord and USB cable. Wireless optical mouse requires no software. Radio frequency and optical technology ensure quick response to mouse movements. Compatible with Windows 98/Me/2000/XP/Windows Visa (scroll function is not compatible with Mac systems). Flexible metal wire USB-powered light. Attend to your every need while traveling. Definitely a must have for those who are constantly on a business trip.
Alibi 3-in-1 Web Cam, Speaker and Microphone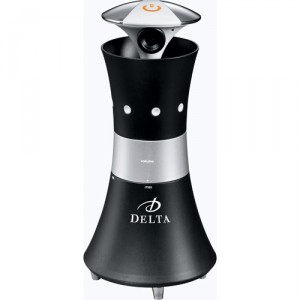 Give the ultimate executive gift by offering this fun, yet functional technology item as a giveaway to meeting attendees. The 3-in-1 device captures video and sound which can be played, stored and shared on a computer. The pop-up web cam tilts and swivels to capture images in any direction. USB cable, sound cable, and CD-ROM software included. 3 in 1, just how convenient can it be! Definitely will save you a lot of desk space and fuss.