18
Oct
2008
Then There is Christmas
Category: Bell, Bridal, Candle, Card Holder, Christmas, Events, Fairytale, Festive, Gifts, Ornaments, Party, Personalized, Photo holder, Seasonal, Wedding, Winter
|
After Halloween, then there is Christmas~~~~ The most festive festival all year round! So…. let's get festive, here are some awesome Christmas ornaments made just for you~~ ^_^
Bells are the perfect Christmas ornaments. You can place it everywhere looking fabulous for the occasion. For details, please check out my other post specifically designated to it. It had all the wonderful bell ornaments for your home decor.
Merry Christmas Personalized Ornaments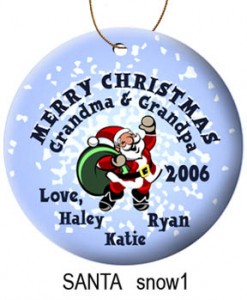 Celebrate the season and remember the magic of Christmas with this personalized ceramic ornaments. You can choose the design that captures your own holiday spirit by personalizing the "To" and "Love" lines with up to 20 characters each. Add the desired Year, accommodating 4 characters.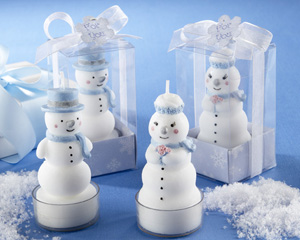 The Snowman Tea Light sports a jaunty silver-banded, blue top hat and matching scarf, with black buttons accenting his "coat". The Snow Woman, batting enviable eyelashes, is dressed for a day outdoors in a fashionable blue hat with matching scarf. Just above the dainty black buttons on her coat, she's holding a bouquet of winter flowers. Each is individually presented with a snowflake-design "For You" tag atop a clear-covered, light blue gift-box tied with a sheer organza ribbon and sprinkled with the winter-white snowflakes. Cute ornaments for all winter events.
"Snow Flurry" Flocked Glass Ornament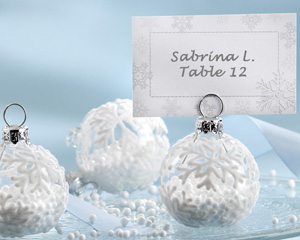 I'm dreaming of a white Christmas
Just like the ones I used to know
Where the treetops glisten and children listen
To hear sleigh bells in the snow
Charming winter's unique gift provides a lovely motif for gifts of the season. The "Snow Flurry" Holiday Ornament Place Card and Photo Holder is a snow-lover's delight inside and out, making it the perfect favor for your winter wedding or holiday party.