13
Nov
2008
Pair Up~~
Category: Bridal, Candle, Card Holder, Events, Fairytale, Gifts, Ornaments, Party, Photo holder, Salt & Pepper Shaker, Timer, Wedding
|
It's believed that we're all incomplete until we've found true love. Only when paired up with the other half – your soul mate, can we truely accomplish a complete circle and be fully fulfilled. If you're the lucky ones who've already got someone to hold your hand, then congratulations! If not, just keep looking~~ Meanwhile, allow me to entertain you guys with these lovely paired-up favors. ^_^
"Two Peas in a Pod" Candle in Ivy Print Gift Box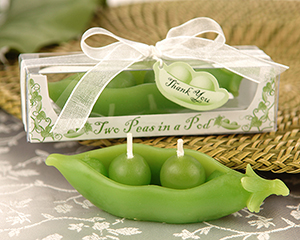 "Two Peas in a Pod" candles set off the perfect spring or summer reception, engagement party, garden party or bridal shower. Sweet little pea motif evokes the charm of a spring fling… or a perfect romantic pairing. Each pea is a separate little removable pea, nestled in a matching waxen pod. Precious illustrated peas and floral greenery wind around the included gift box.
For more choices, "Two Peas in a Pod" Ceramic Salt & Pepper Shakers and "Two Peas in a Pod" Placecard Holders are available too.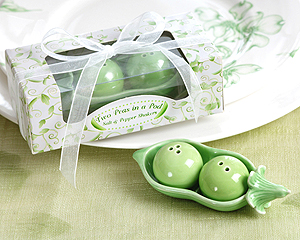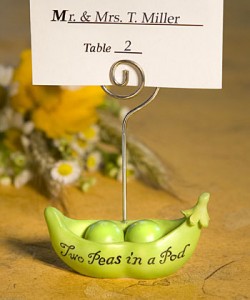 "The Perfect Pair" Cookie Cutters in Wooden Gift Box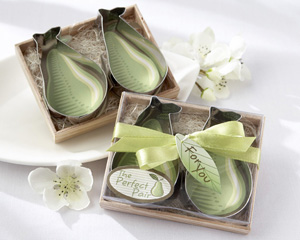 The deliciously sweet favor – "The Perfect Pair" cookie cutters will remind your guests that you were made for each other each time they pop a tasty, pear-shaped, home-baked cookie in their mouth. Nestled closely together in a decorative wood gift box with a straw bed and a clear top, the two stainless-steel cookie cutters surround decorative pear background. Brightening the gift box is a pear-green, satin ribbon with a "For You" tag in leaf design and a sticker that declares you're "The Perfect Pair".
For more choices, "The Perfect Pair" Pear Timer and "The Perfect Pair" Pear Candles are also available.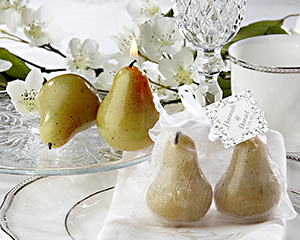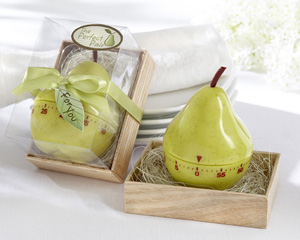 Adorable Gingerbread Bride & Groom Candle Favors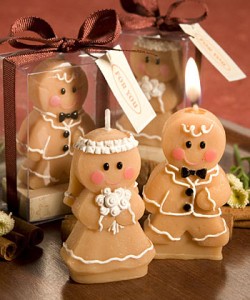 It's a storybook day so why not add some fairy tale charm to your tables with these two cute characters! Each gingerbread-inspired candle favor depicts either a blushing gingerbread bride or a gingerbread groom – delightfully decorated with icing and candy style decorations and details.