23
Dec
2014
Personalized Bachelorrette Party Supplies and Favors
|
Farewell to your past bachelor days before you are about to get married. Celebrating a bachelorette party provides a comfortable opportunity for girls to talk or to give some advice for married life in the future. You must be busy with adorning your party. Here's provide you with some of our popular Bachelorrette Party Supplies & Favors in order to give you more inspiration on party decoration. All these recommended products are perfect party supplies & favors for bachelorette party.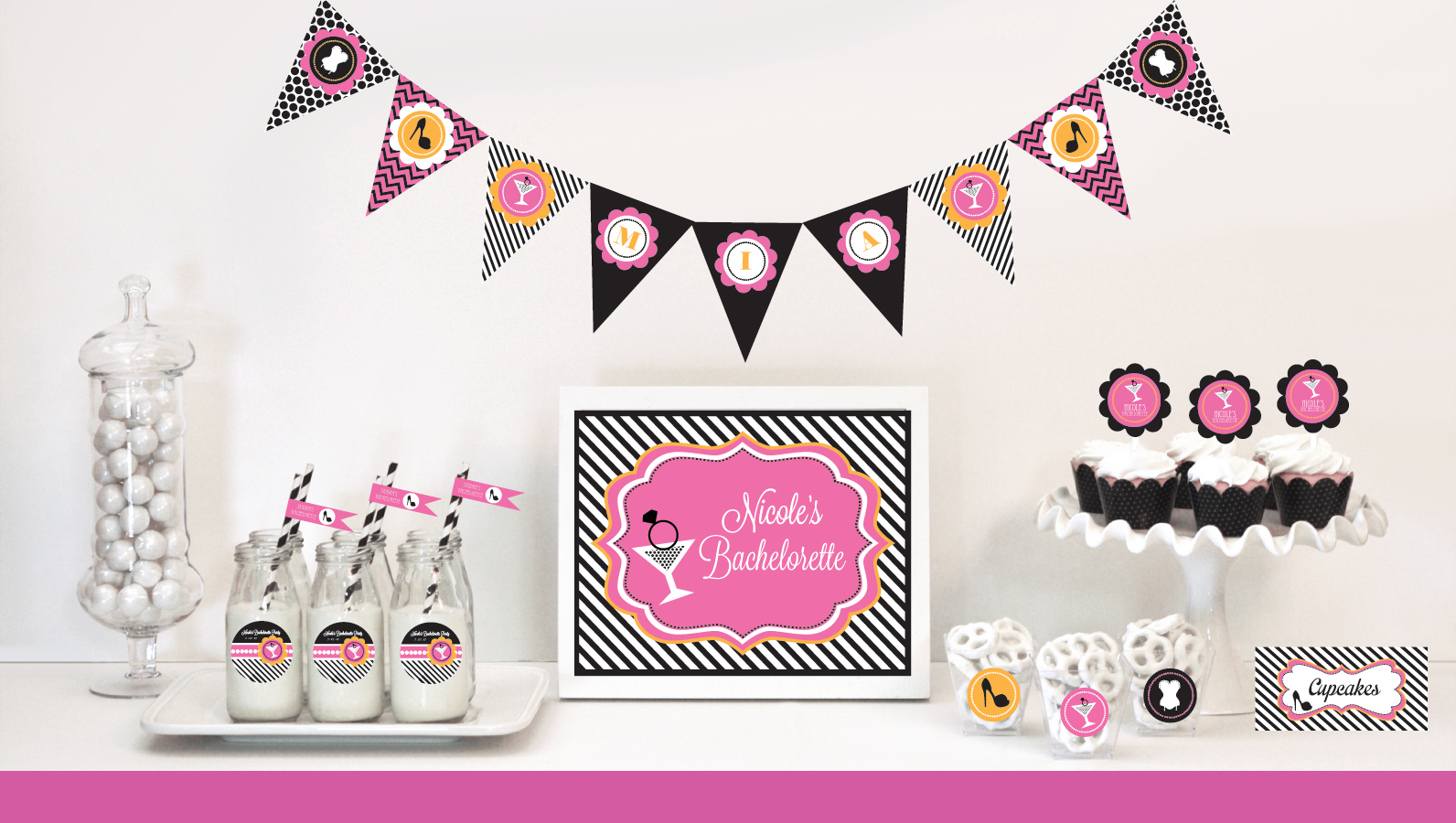 Bachelorette Party Decorations Starter Kit
Bachelorette Party Decorations Starter Kit is a set of main components used in bachelorette party. Each starter kit includes pennant banner, party sign, pink striped straws, pink cupcake wrappers / toppers, menu / place cards and decorative stickers. They are all ideal party favors that will completely match your party for girls.
Bachelorette Party Invitations
Sending these Bachelorette Party Invitations to warmly invite your friends and guests to participate in your party. Your guests must be pleased to accept this personalized invitation with special message accented with adorable martini design.
Bachelorette Party Pennant Banner
Hang this Bachelorette Party Pennant Banner on the wall or to the doorway or just place it on the table as a centerpiece so that every guest will know who is about to get married. The banner also plays an important part in spicing up the atmosphere in the party.
Bachelorette Party Sign
Systematize and organize your bachelorette party with this Bachelorette Party Sign, which comes with personalized text accented with an adorable martini glass and diamond ring design. This party favor can be placed in any areas in your event for a more beautiful look.
Bachelorette Party Return Address Labels
Embellish your plain envelopes with these Bachelorette Party Return Address Labels, which can be personalized your special message and is accented with a high heel in hot pink background that can fit in your party theme perfectly. What's more, your guests must be delighted when he receives such an envelope with elegant label.
Bachelorette Party Cupcake Wrappers & Cupcake Toppers
Complete all the details by dressing up the cupcakes with these Bachelorette Party Cupcake Wrappers & Cupcake Toppers for a more formal look. It is a great idea to display these wrapped cupcakes to dessert table as decorative centerpieces for guests appreciation.
Bachelorette Party Personalized Label
Stick these Bachelorette Party Personalized Water Bottle Labels to plain water bottles in order to match the theme of your special events. And these Bachelorette Party Decorative Mini Stickers can be adhered to any party favors. Personalize them with your own text as a reminder for your big event.
Bachelorette Party Favor Container
Use different sizes and kinds to hold different fun-sized treats. These Bachelorette Party Chevron & Dots Goodie Bags can be filled with small gadgets, sweet tooth, candy or chocolates. Placing them on buffet table for guests "pack your own" favorite treats is also an excellent idea. These Bachelorette Party Personalized Milk Bottles can not only hold jelly beans, candy, nuts or chocolates, but also can held milk, juice and other more cool beverage. They are perfect and ideal party favors for bachelorette party for girls.
Are you looking for some adorable party favors to adorn your bachelorette party? HotRef.com will provide more detailed information about our products. Welcome to contact us and place order from our company! We are sincerely at your service.