08
Nov
2008
Las Vegas Theme Favors
Category: Bridal, Business Gifts, Crystal favors, Dice, Events, Gifts, Horseshoe, Keychain, Las Vegas, Party, Photo Frame, Wedding, Wine Stopper
|
One Comment
|
Live Happily Ever After in Las Vegas~~
Life is a rollercoaster where there're ups and downs. Thank God you're LUCKY enough to find your significant other. So, grab your dice, and never let go the hand of your loved one. Period. Looking forward to adding a bit of spice and favor for your big day? Here're a bunch of bridal favors perfect for a Las Vegas themed wedding.
"Lucky in Love" Translucent Playing Card Bottle Stoppers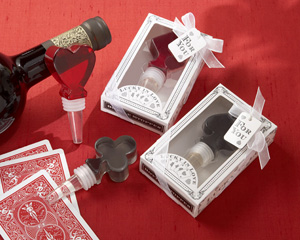 You've been lucky in love, and you want a wedding favor that "suits" your style and your Las Vegas- or casino-themed wedding. Stunning in design and color, always useful and cleverly presented in a playing-card gift box, the translucent acrylic bottle stoppers will make your guests feel like they've hit the jackpot! The ingenious, black-and-white playing-card gift box has a clear showcase window, four aces on the back, and the words "Lucky in Love" with four more aces appear on the front. Smartly accented with a sheer, white organza ribbon and bow and a matching, playing-card "For You" tag, the set of four includes one stopper of each suit-two red and two black. What a deal!
"Perfectly Suited!" Las Vegas-Themed Glass Photo Coasters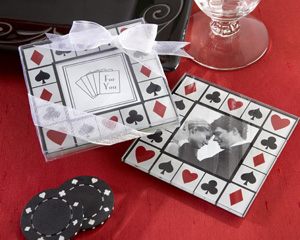 You win the hand when love starts! Every guest will know you took a gamble and hit the jackpot when they receive the "Perfectly Suited!" Las Vegas-Themed Glass Photo Coasters. A 2″ x 2″ space for a favorite photo or place card is surrounded by the red and black playing-card icons, and there are four tiny "feet" on the back for surface protection.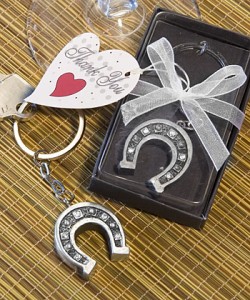 The horseshoe is one of the world's most relied upon symbols of luck. So give your guests some "good fortune to go" with these dazzling horseshoe key chain favors. Your guests are sure to feel lucky to receive these "lucky charm" horseshoe key chains as their event favors. Perfect for casino nights, retirement parties and almost any occasion where Lady Luck is on the guest list.
Las Vegas themed Chrome Keychain with Crystal Dice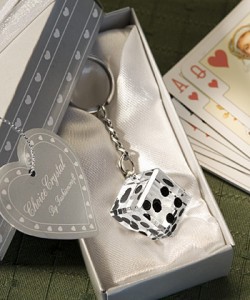 With Las Vegas-style weddings and showers on a hot streak, it's a sure bet that this chrome keychain with crystal dice makes a fabulous favor.