15
Feb
2011
WEDDING CAKE FAVORS
|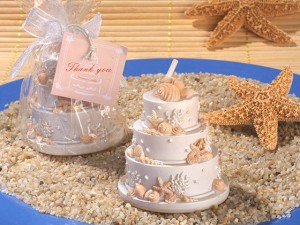 Wedding favors are an integral part of any ceremony and reception.It is given as token of appreciation to each guest's who participate in your wedding.The type of favors to be given depends upon the number of attendees.Generally, these favors are inexpensive so each guest's can be gifted with one.Giving favors to the guest's has now became a tradition , which had started long time back and now it is followed out of people's own interest depending upon their budget.It is also assumed to be a good luck for the couple who would share their life and fortune after today's event.There are various personalised favors which can even used for decorating purposes and there are also some edible wedding favors such as cookies, mint, cakes, tea bags etc.
CANDLE AS FAVORS:-
Wedding cake candle favors are used to decorate the wedding cake and it is believed that candles are the traditional symbol of enlightenment in the life of the would be married couple. A personalized message can be attached to these candles writting a message or poem or methodological scripts on it. Wedding cakes are very delicate and are shaped in a three decker. It comes in various colours rose pink , white and many more. For the bride and groom, wedding day is the biggest day of their life ,they want to make it memorable for others too by giving out wedding cake favors.
PORCELAIN TEALIGHT CANDLE HOLDERS:-
Porcelain is simply an ceramic material which is formed by heating some raw material on a specified temperature in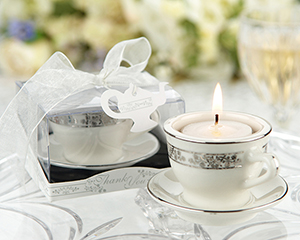 a klin. Porcelain is used for making decorative wares ,tiles, sanitary etc because of its toughness, brittleness and glassiness.This also forms tealight holder which is basically used in weddings like event.
Porcelain tea light holders are formed by the unique technique creating wonderful shadows.They are approx 8 cm in size which is presented to the guest as favors in a box of recycled material. Tealight candle holders also works as a stand for candle.They are beautiful but very simple and inexpensive to afford which gives very trendy look to the wedding decorations.