31
May
2016
New Brand Atchison Promotional Products
|
This week, we've got new promotional products from the brand Atchison! Atchison is a well-known promotional products company that produces stylish bags, padfolios and travel bags! From contemporary backpacks to highly function messenger bags, there is a bag or accessory for everyone! All our Atchison promotional products listed can be customized or imprinted to include a company name, logo, or a small message. In turn, these bags are great company and business gifts to give employees!
Padfolio
Stay organized for business meetings with our Atchison® Madison Padfolio! With it's unique and stand-out design,  our Atchison Madison padfolio has a zippered closure for security, a writing pad with pen, and has an interior organizer with file pockets and integrated business card pockets.
Writing Pad
If you're looking for a place to keep write and store your notes, then this Atchison® McCarthy Jr. Writing Pad is perfect for you. It's the perfect size to bring to meeting or for business travel. Our Atchison McCarthy Jr. writing pad includes interior slip pockets for organization and business card pockets.
Backpack
Atchison also produces great durable backpacks that are perfect for travel, going to school, or hitting the gym! Our Atchison® Kaleido Backpack is a universal backpack and comes in a variety of colors! The Atchison Kaleido backpack features 2 large compartments for ample space and a mesh side pocket for your water bottle!
Messenger
Messenger bags are also great bags to bring to work, school or to travel with! The Atchison® Wanderer Computer Messenger has it all — flip it open to reveal an organizer panel for pens, business cards and other accessories and a main storage area with ample space. It also features a laptop sleeve to fit any 13″ laptop comfortably and safely.
Briefcase
For a more modern and sophisticated look, our Atchison® Premiere Briefcase is great for executives and business men and women on the go! Once unzipped, the Atchison premiere briefcase can open flat, revealing a padded laptop and tablet sleeve, zippered compartments, and and interior organizer. It also features a strap on the back so you can attach this briefcase onto your luggage when traveling.
Duffel
For those looking for a sports bag to take to the gym or to sporting events, Atchison also has a variety of durable sports bags! Their Atchison® Kadin Sport Duffel is one of our favorites! Available in various colors, the Atchison Kadin sports duffel features 2 zippered side pockets and a spacious main compartment to fit your gym shoes, towels and accessories.
Tote Bag
Tote bags are a great stylish alternative to an ordinary backpack or bag! Our Atchison® Convention-All Tote are great for conventions and meetings! The Atchison Convention-All tote bag has a from slip pocket and a side pocket for business cards, pens, or any other small accessory.
Cooler
Coolers are great to pack you lunch in for work or for a company picnic! Our Atchison® Winners Take All Cooler features a spacious main compartment with heat-sealed PEVA liner to keep your food fresh and warm. Available in various colors, the Atchison Winers Take All cooler preppy double stripe design is the perfect cooler to show your team spirit!
Cosmetic Bag
Atchison also carries some stylish cosmetic bags that are perfect for travel, like their Atchison® Fashion Cosmetic Bag! Open the zippered main compartment to reveal a stylish and gorgeous printed lining. Also features a small back zippered pocket for additional storage. Our Atchison Fashion cosmetic bag is spacious enough to holding all your makeup brushes, lipsticks, and all other cosmetics and small enough for travel.
Garment Bag
Keep you business suit safe when traveling with our Atchison® Quadruple Double Garment Bag! Features a patented locking mechanism for hangers, the Atchison quadruple double garment bag has zippered closure on three sides and has a tri and bi-fold with extra panel for added length.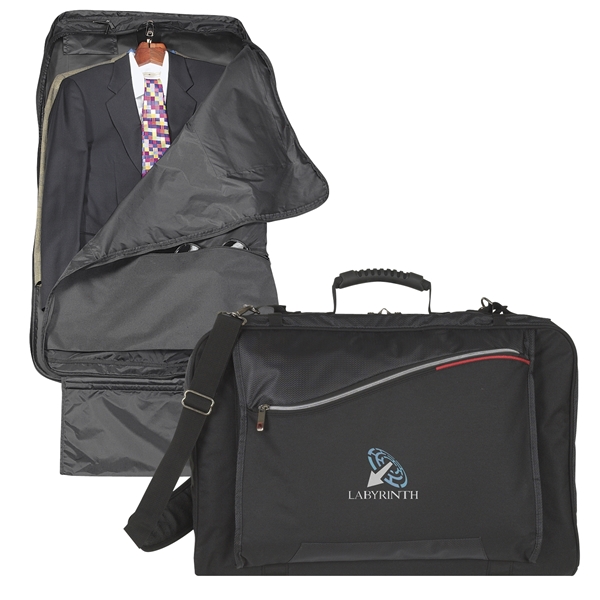 For more promotional products from Atchison, check out our full list at HotRef.com! These promotional products can be customized to include your company's name, logo, or a small message! If customized, these products would make great corporate and business gifts to give your hard-working employees.
Come back next week for more promotional products!
-Nina A.