05
Sep
2014
Personalized MOD Party Supplies: Tea Party
Category: Birthday, Bridal, Bridal Shower, Events, Favor Box, Gifts, HotRef, Invitation, mason jar, Party, party favors, tea party favors, Wedding
| |
Leave a Comment
|
Holding a tea party with several close friends to kill leisure time becomes a main entertainment in today's modern life. It is ideal for bridal shower, girls or classmates getting together. Let us help you make a thoughtful plan for your tea party decoration. Perfect tea party favors such as Invitation, Starter Kit, Pennant Banner, Cupcake Wrappers & Cupcake Toppers may be the indispensable elements during the tea party. Here we recommend some Tea Party Favors at Hotref, we hope the information is helpful to you.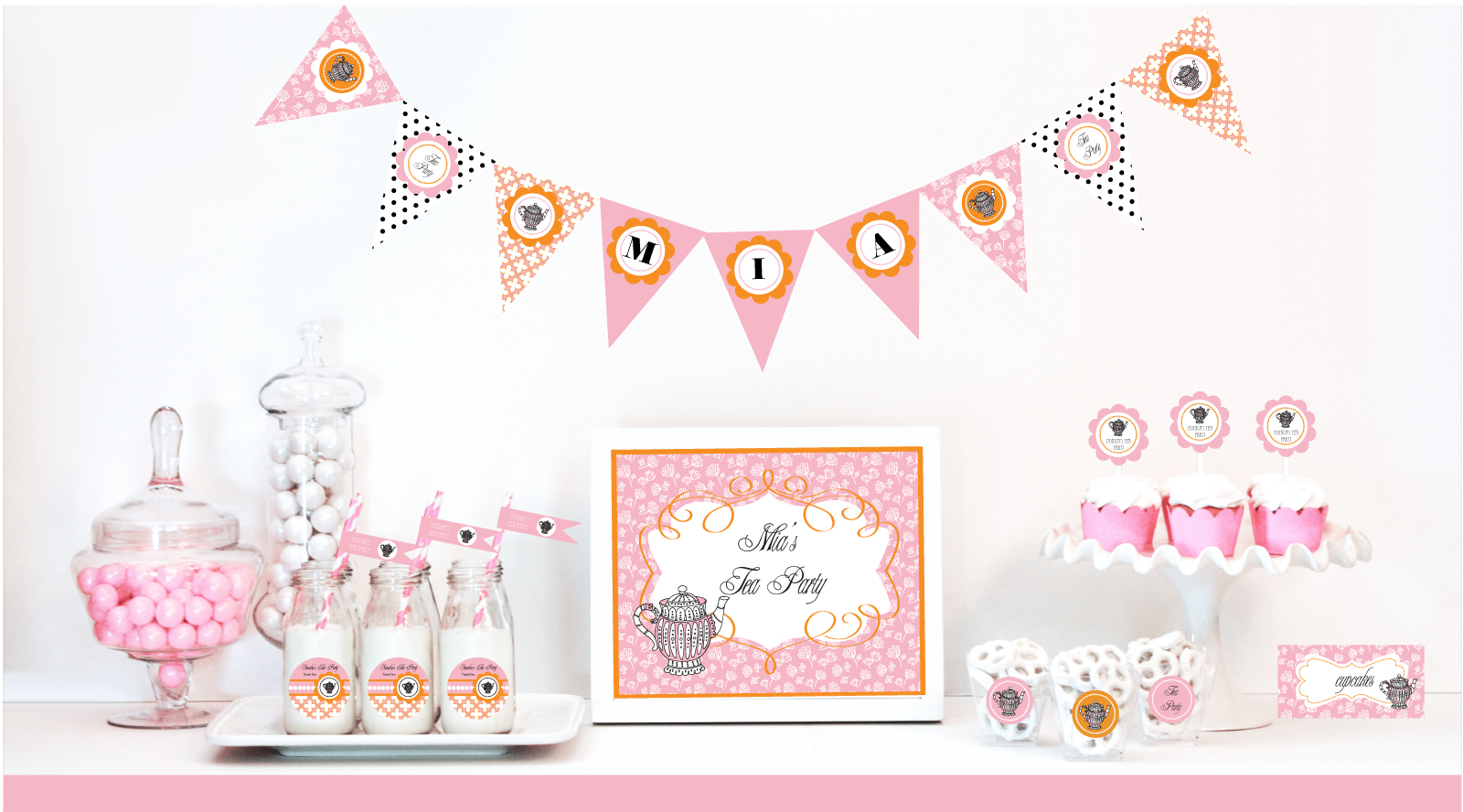 Tea Party Invitation
Your friends or guests are sure to be surprised and delighted to join in the tea party as soon as they receive such a beautiful tea party Invitation. They are looking forward to meeting and chatting with each other.
Tea Party Decorations Starter Kit
This Tea Party Decorations Starter Kit comes in pink and orange, each kit comprises 6 key components with 1 Pennant Banner, 1 Party Sign, 25 Pink Striped Straws, 24 Pink Cupcake Wrappers/Toppers, 12 Menu / Place Cards, and 32 Decorative Stickers. They are really perfect favors for tea party.
Tea Party Pennant Banner
Adorn the tea party with this Tea Party Pennant Banner will help increase a cheerful atmosphere to the tea party. You are free to create your names or other words and phrases to the triangle banners to show your personality. It is perfect favor for bridal shower and tea party themed birthday.
Tea Party Sign
Make your own signature individualized with this Tea Party Sign. This one has special design with floral background and a vintage styled teapot, especially fits for ladies. You are customized to create some positive words and phrases to welcome your guests and friends.
Tea Party Return Address Labels
It may be a fashionable way to send invitations with these Tea Party Return Address Labels. Crafted in a vintage teapot design and will be sure to leave a deep impression with these elegant labels. They are perfect labels attached on invitation for bridal shower, birthday or other anniversary.
Tea Party Cupcake Wrappers & Cupcake Toppers
Embellish your cake with these Tea Party Cupcake Wrappers & Cupcake Toppers which will help stimulate guests' appetite to have some sweet tooth. Dress up the cupcakes and insert the toppers into the cupcakes, then place the cupcakes on the tables. Not only can be a delicious cake, but also a table decoration.
Tea Party Personalized Label
Adhere the Tea Party Decorative Mini Stickers to the envelopes, favor boxes, or other small event elements, even can be sticked on the straws. These Tea Party Personalized Water Bottle Labels are used to attach on the water bottles in order to unify them to the theme of tea party and can stop them from monotone.
Tea Party Favor Container
You may send some fun-sized give away gifts to your friends or guests. Tea Party Favor Container becomes an important outer package for holding special treats. Tea Party Personalized Milk Bottles for holding sweet candies or can be used as a drinking machine. Tea Party Personalized Candy Tubes can be a perfect container for holding different sized candies. Tea Party Personalized Jelly Bean Packs is to hold jelly bean. Sweet Shoppe Candy Boxes can be filled with candies and can be taken away home by guests. Tea Party Personalized Candy Jars can be held a variety of things such as candy, spices, loose-leaf tea, or more. Tea Party Personalized Mini Mason Jars with baker's twine which can also be held loose-leaf tea, chocolate, colorful candies or home-made spices. Tea Party Chevron & Dots Goodie Bags are perfect favors for filling with tea time favorites such as scones and macaroons.
Welcome to re-pin our images about Tea Party Favors on Pinterest if you are interested in these items.